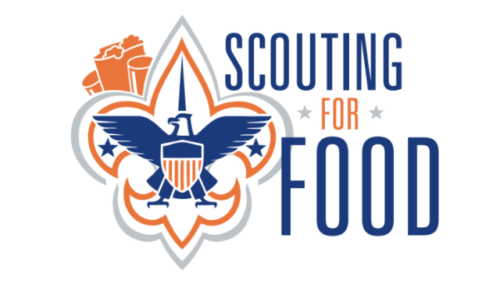 Scouting for Food is a food drive to help Idaho and eastern Oregon fight hunger. We need your help to accomplish this dream. The Ore-Ida Council's goal is 160,00 pounds, last year we accomplished 153,547 pounds altogether. Please come this Saturday the 28th to help us put out bags for food collection because this is the most important weekend.
Our goal for this weekend is to make sure there is a bag on every door in our section from Cloverdale to Maple Grove and Columbia to Lake Hazel.  We need adults to drive the Scouts around in each of the sub-sections. We will meet at the Albertsons parking lot on Five Mile and Lake Hazel. I need Boy Scouts to be there at 8:15 am and Cub Scouts to be there at 9:00. As soon as everybody arrives, we will immediately go through safety briefing and how to tie bags on doorknobs.Finally, we will put the groups together evenly and pack you with some bags and send you off.
I hope to see you Saturday the 28th at the Lake Hazel Albertsons parking lot.
Pick Up Bags Saturday 4th.  Meet at Lake Hazel Albertsons 9:30am.
Sincerely, 
Garrett Butler 
Troop 92 SFF Coordinator